Usually when we say "thinker" we mean writer, probably someone who has written books of at least medium if not interminable length. One more example of our blindness for the values of the miniature.
Small might be beautiful, but short is just, well, short.
However, saying things with few words is a higher art than expounding and pounding your readers.
A favorite thinker of mine who manages to say it with 17 words or less is Ashleigh Brilliant. He is known to me for making small postcards with a picture and a sentence. That´s all.
But what sentences! Brilliant has an eye for the human condition and the ear and brains to formulate his observations. This one for example has a decidedly Swedish, Bergmanesque flavor.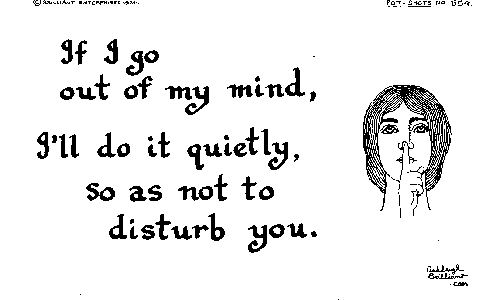 Here are some of my Brilliant favorites, but BE WARNED: A maxim is a like an inflatable air-bag; when it makes contact with an open and ready mind it expands remarkably. A few words well chosen can fill us up entirely. However, read many at once and nothing happens. None of them are given a chance to really expand since while one of them starts to swell, another one comes along, then another. This mental crowding will not make you illuminated, just satiated.
That said, I will still give several examples. If you are wise and diet-conscious you will only read one, and return another day for a new one.


I waited and waited, and when no message came, I knew it must be from you.
I happened to see you passing through my life, so I thought I'd love you.
When all else fails, eat!
Why don't you write, and give me a chance not to reply?
I don't have any solution, but I certainly admire the problem.
Please don't tell me to relax – it's only my tension that's holding me together.
Your smile is one of the great sights of the world.
Never resist a mad impulse to do something nice for me.
If God had approved of the metric system, he'd have given us ten fingers.
Anybody who thinks I am strange ought to meet you.