För er som leker med tanken på att anlita mig, något om mina aktiviteter.
FÖRFATTARE
Många böcker på gång. "Offensiv Nostalgi" är kanske det viktigaste jag skrivit. Boken beställs HÄR.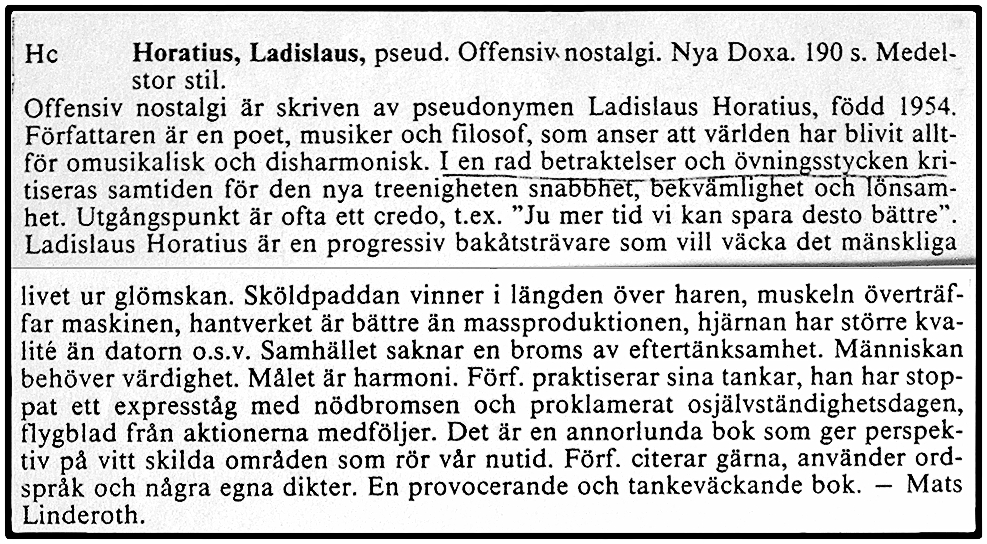 TEATROSOFI (filosofisk teater)
Diverse "aktioner".
OPERATION SKÖLDPADDA (nödbromsa X 2000, protest mot ekvationen Snabbare = Bättre)
OSJÄLVSTÄNDIGHETSDAGEN (5 juli, fira beroendet)
NYÅRSSÖRJANDE (det nya året blir bättre om vi gråter på Sylvester)
STOPPA TIVOLISERINGEN (sandwichman i Kungsan)
FÖRSTA MAJ BAKLÄNGES (gick kräftgång i 1-a majtåget under parollen "Framsteg är inte utveckling")
INVISIBLE ART (omärkligt konstverk på Mäster Hans i Malmö)
SONAT FÖR PREPARERAD PIANIST (Högriskfestivalen)
TONSÄTTARE
Jag skriver kammarmusik, elektroniskt, vokalmusik, inte minst moderna romanser. En ny opera puttrar i ugnen.  Soundcloud. YouTubekanal.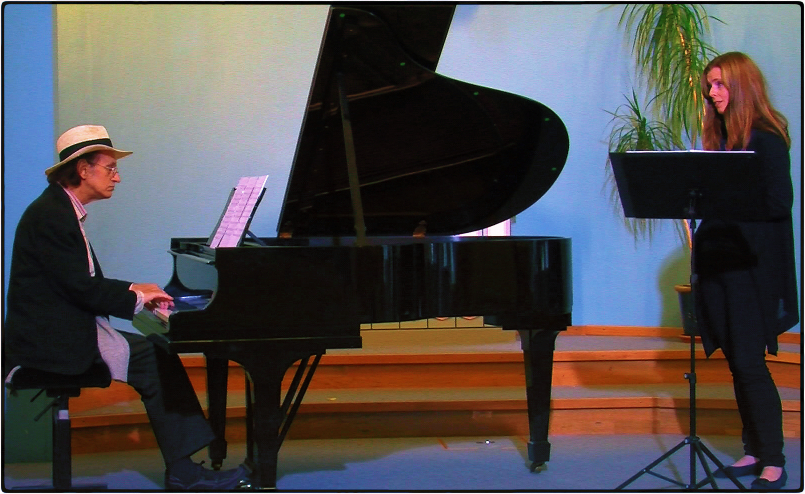 MUSIKALISK BAKGRUND
Är utbildad på Kungliga Musikhögskolan i Stockholm som pianist. En längre meritlista hittas HÄR.
SKRIBENT & KÅSÖR
Jag har sedan mitten på 90-talet debatterat, skrivit artiklar och inte minst kåserat i följande publikationer:
CORREN (Östgöta Correspondenten)
EXPRESSEN (Sidan "Fråga Filosofen")
SYDSVENSKAN
COMPUTER SWEDEN
UPSALA NYA
TIDSKRIFTEN HÄLSA
OPUS (musiktexter)
OPULENS
PAXOLOGI
Mitt viktigaste arbete numera handlar om fred, men inte på det vanliga, slitna sättet. Fredsdomänen behöver innovationer och ett musikaliskt, musiskt tänkande. Läs mer här: The Venusian Peace Project.
FOTOGRAFI
Ägnar mig en del åt bilder också. The Gentleman Photographer
Sagt om mina framträdanden

FÖREDRAG OM SAMHÄLLSUTVECKLING OCH IT
Sundsvall 42 Rundfråga till deltagare: Vad tycker du om Horatius tankar och idéer?
"Mycket stimulerande, det väckte eftertanke. Det är viktigt att vi inte förblindas av tekniken och glömmer bort de etiska frågorna." (Bengt Ingemar Tufvesson, Ferring AB)
"Det var tilltalande med ett sådant nytänkande. Allt är inte så glassigt som det kanske kan verka på sådana här konferenser." (Åsa Grip Nilsson, Stockholms Universitet)
 "Jag håller med honom. Speciellt i IT-världen måste vi stanna upp ett tag och tänka efter vad vi håller på med." (Jan-Olof Andersson, Sveriges Riksbank, Sthlm)
"Galen, genialisk, utflippad, inspirerande, förväntad, ifrågasättande. Ingen är likgiltig efter att ha hört Horatius. Han kan mixa och krydda vilken konferenseftermiddag som helst".
Bo Hedin, VD och förlagschef, Resumé förlag
"Tack för en fantastisk föreläsning som fått högsta betyg från alla som lämnat in sin enkät. Lärarna som deltog var alldeles lyriska över ditt framträdande!"
Marie Hidén, Ung Företagsamhet
"Ett stort TACK för ditt "oefterhärmliga" inslag. Underbart professionellt och tänkvärt."
Ingegerd Hedberg, Mercuri Kongress
"Horatius har ett pedagogiskt och spetsigt sätt att framföra sina filosofiska synpunkter på. Det leder både till eftertanke och engagemang."
Sören Gyll
"Horatius har en suverän talang att skära rakt igenom ordridåer och blotta det väsentliga, det som verkligen betyder något. Att dessutom kunna utgå från filosofi och musik i diskussioner om stress, IT, affärer och företagsledning är alltid uppfriskande. Horatius är vår mest anlitade husfilosof, han tillför alltid nya tankegångar till våra seminarier och konferenser."
Ola Feurst (ekonomie doktor, Marknadsakademien, SU)
MUSIK & TANKAR
"Efter en lång seminariedag med forskare, läkare och politiker om integrativ medicin i Linköping (http://www.sfim.se ) och en lång middag på Vadstena Klosterhotell, var vi en publik som ytterst få hade kunnat fånga. Och så kommer den filosofiske provokatören och musikaliske ensamvargen Ladislaus Horatius och gör just det. Vad han gör är svårt att förklara. Filosoferar och musicerar, skulle han kanske själv säga. Jag kan bara säga att det blev en lysande avslutning på en lång dag."
Göran Rosenberg (som modererade konferensen)
"Genom sorgsamt utvalda, briljant framförda pianostycken samt intelligenta och humoristiska eftertankar lyckades Ladislaus Horatius avrunda, nästan transcendera, vår internationella konferens om Integrativ Medicin i Linköping 29 maj 2007. Mycket uppskattat, tack!"
Wolfgang Doerfler, koordinationsgrupp SFIM (Swedish Forum For Integrative Medicine)


WORKSHOP & VISDOMSGILLE
Deltagare på workshop för Satellus: "Det finns massor av konsulter av olika slag som åker runt och pratar men i själva verket inte säger mycket annat än de vanliga flosklerna. Ladislaus samtal var däremot något nytt; självironi, humor under ytan, tankeväckande, verbal spänst, mm. Jag hoppas – och tror – att de tankar som väcktes hos mig inte lyckas skrivas över av trams från andra konsulter"
Deltagare i Vadstena Visdomsgille:  "Gillet har förändrat mitt liv, men det fascinerande är inte det, utan att resan har varit så spännande, kärleksfull och rolig. Äntligen ett forum där den annars så esoteriska disciplinen filosofi dammas av, vitaliseras och får en relevans för människans vardag."
"Visdomsgillet hjälper mig att bli mer medveten om mina tankar, emotioner och reaktioner."
"Visdomsgillet är en lugn och rofylld samtalsform där verkligen var och en får komma till tals, vilket berikar ens egen självreflektion. Detta torde vara tämligen unikt, och har för mitt vidkommande varit utomordentligt givande, varför jag verkligen kan rekommendera alla som intresserar sig för filosofiska frågeställningar i vardagslivet att deltaga i dessa Visdomsgillen."
 MUSIKALISKA SALONGER
(ANTECKNAT I GÄSTBOKEN)
"Berusad av toner…"
"Nu är jag en fantastisk upplevelse rikare."
"Such beautiful sounds coming from that baby grand – you make the snow fall upward."
"Förödande vackert."
"Diskot är dött. Leve salongen!"
---
Kontakta mig för föredrag, salonger, m.m.