Our language and thinking constantly gain (and lose) words and concepts. Sometimes this changes our world-view, sometimes it only adds an insignificant detail.
"App", "podcast" or "infotainment" does not mean a new paradigm, however "environment friendly" means a general change in awareness.
I have coined a couple words myself for phenomena that existed but didn´t have a name. Like "ononist", a person who want´s to be online constantly (never offline). This used to be a small group, nowadays a majority of Western Internet users are ononists.
But today I want to draw attention to something else, namely bought thoughts. This is not an elegant term in English (better in Swedish) but awareness about this phenomenon is sorely needed in today´s world.
So what is a bought thought? It is a sentence or formulation that nobody has spontaneously thought, and nobody really believes in. However, somebody (probably an advertising man) has been PAID to come up with it (!). Then humanity at large are supposed to swallow it, think it, believe it, share the meme.
It is totally artificial, yet through commercial interests it tries to become real, a "truth" in the minds of consumers.
Since commercial interests are so strong in the world, often contradicting sanity and honesty, it would be good if we became aware of bought thoughts, stopped swallow and believe in them.
Slogans like "Nokia- connecting people" (not unrelated to the phenomenon of ononism) is one example of a bought thought. If we are environmentally aware also in the mental sphere, we can see that these slogans and thoughts are like litter or garbage.
They can be contrasted with proverbs that have nothing to sell but encapsulate some truth, not seldom bitter, an observation about life. Let us be aware of the gulf between a proverb like "Everybody likes the smell of his own fart" and a slogan like "Improving agriculture, improving life" (Monsanto of GMO fame).
You see, proverbs and intelligent maxims and aphorisms don't flatter us (or themselves). Slogans always do.
Let me end with just one example of a bought thought (you can find hundreds if you sharpen your listening and sensitivity). Heidi Cranberry is quite good chocolate. But listen to what some ad-man came up with.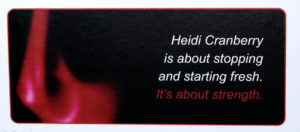 "… stopping and starting fresh". You mean, first I finish one bite, then take the next one…?
Hopefully I have inspired you to be more slogan-aware, to notice the flattering tone in so many thoughts flying around in our mental atmosphere.
I call it mental smog.