(Artikel publicerad i tidskiften 00TAL, någon gång på 00talet.)
Filosofen Ladislaus Horatius är förmodligen en av långsamhetens mer färgstarka förespråkare. De flesta minns honom kanske som personen som drog i snabbtåget X 2000-s nödbroms för att det gick för fort i tillvaron. Men när 00TAL bad honom beskriva långsamheten tog han givetvis tillfället i akt och riktade uppmärksamheten mot dess motpol snabbheten.
–Det faktum att jag talat väl om och försvarat långsamheten under snart sju år har grumlat och förmörkat synfältet, delvis även för mig själv. Därför vill jag nu rikta ljuset mot snabbhetens kvaliteter.
När vi talar om snabbhet talar vi om tid. Tempo = tempus = tid. Tid är tempo. Men tempo handlar inte bara om hastighet. Översätt tempoangivelserna på en metronom. "Largo" betyder brett, generöst. "Andante" gående, promenerande. "Allegro" glatt och livligt. Tempo anges alltså verbalt som känsloläge, som omätbara emotionella kvaliteter.
Hastighet (bpm, slag per minut) handlar om kvantitet. Snabbhet och långsamhet handlar om både rena hastigheter och omätbara kvaliteter.
Detta ser vi i talesättet "skynda långsamt". Jag översätter det med "snabbt och lugnt". (Vilket påminner om ett annat talesätt: grace under pressure.) Snabbt och lugnt är ett önskvärt läge. Mera vanlig och mindre önskvärd är positionen "skynda snabbt" (snabbt och stressat). Också vanlig, i denna tid av mikrosömn och stjäla-sig-en-stunds-vila, är varianten "slöa snabbt". Varianten "Slöa långsamt" är svår att finna i ett protestantiskt land som inte förstår siesta men bara alltför väl nolltid och busybody.
Långsamhet är ingen patentmedicin. Jag brukar säga att det är lika dumt att vara långsam bara för att vara långsam som att vara snabb bara för att vara snabb. Men mindre vanligt.
Däremot kan faktiskt snabbheten fungera som medicin. Det finns många goda skäl till att vara snabb. Och detta menar jag inte som en uppmaning att följa strömmen, snarare att återgå till ett bortglömt och misskrediterat ideal. Titeln på James Gleicks senaste bok är "FASTER: The Acceleration of Just About Everything". Except people, vill jag tillägga. För medan förvisso tåg, datorer, mat och generellt teknologi har blivit snabbare har människan tappat fart rejält.
Hastighet anknyter till fasthet anknyter till balans. Den som är långsam kallar vi slö, den snabbtänkte är skärpt och vass. Vi kunde likaväl talat om en kniv, ömsom slö, ömsom skarpslipad. Att vara en skärpt person är att gå på knivsegg, att vara balanskonstnär. (Och balunskonstnär. Hur var det Cocteau sa? "Takt handlar om hur långt man kan gå för långt.") Är du skärpt är du en lindansare; du gungar och oscillerar men aktar dig noga för att falla ner i lufthavet på höger och vänster sida. Din balanserande stång genomborrar det förflutna och framtiden men du håller dig envist kvar på linan — nuet. Detta kräver snabbhet, vilket till stor del handlar om snabba reaktioner.
Observera en ackompanjatör. Han får inte inse efter konserten att hans sångare ville sjunga i ett annat tempo. Det måste han notera och reagera på omedelbart, i realtid. Däremot kan vi tänka tillbaka på en fest för länge sedan och inse att vår samtalspartner faktiskt satt och … förolämpade oss! Efter flera år trillar myntet ner. Det är förlåtligt, men det är inte skärpt. Det skulle aldrig tolereras hos en musiker. Vara skärpt = vara lyhörd = vara närvarande = leva i nuet = vara snabb.
Etik och etikett har mycket med snabbhet att göra. Praktisk etik i betydelsen civilkurage handlar om att göra det rätta utan dröjsmål.
Snabbheten gäller perception lika mycket som handling. Takt och god ton är att omedelbart uppmärksamma en social dissonans (till exempel att någon står övergiven på en fest, eller saknar dryck i glaset när det skålas), och att lika snabbt skrida till handling för att neutralisera dissonansen. Etikett är etikens lillebror.
Emotionell intelligens handlar, eller borde handla, om snabbhet. Att direkt gå till problemets eller medmänniskans kärna — rakt, snabbt och utan omsvep — är en emotionell, existentiell talang. Snacka inte så mycket skit, spela inte dum, cut the crap — borra dig snarare snabbt ner mot pudelkärnan. Detta hjälps ibland på traven av alkohol. Efter arbetsveckans formella och konforma tänkande är det skönt att åtminstone för några timmar bli skarp på krogen. (Berusning är — Baudelaire skulle hålla med mig — också ett slags skärpa. Att man ofta trillar av linan är en annan historia.)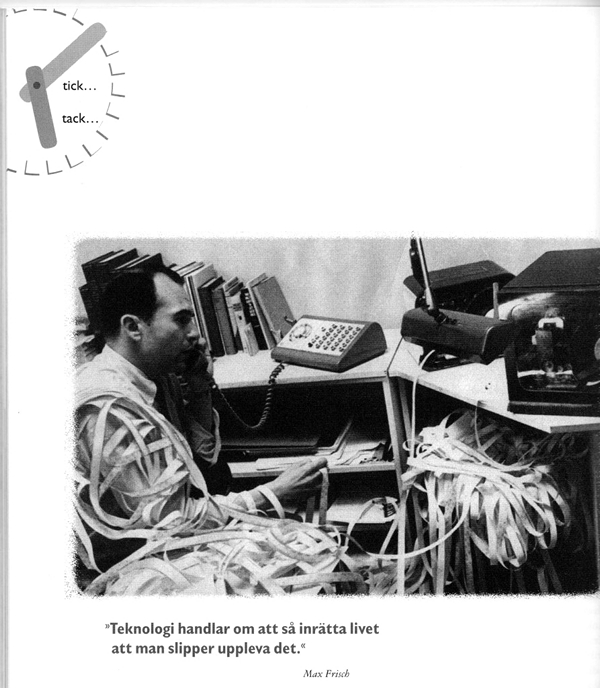 En snabb sportbil behöver inte vara bättre än häst och vagn, men "snabbare" indikerar generellt "högre". Sopranens toner har högre frekvens än tenorens, vilket har setts som ett tecken på kvinnans överlägsenhet. (Och visst jobbar jag hellre med sopraner än tenorer.) En andlig guru har snabbare vibrationer än en IT-guru. Swami Vivekananda sa att en smart person kan uppnå nirvana på sex månader. Även om det inte är "smart att vara snabb" så krävs det snabbhet för att vara smart nog att kunna bli upplyst på ett halvår.
Mina neuroner får spurta när jag räknar med papper och penna, jämfört med miniräknare. All den snabbhet som omger oss handlar snarare om människans rekvisita än om människan själv. (Gränsen som dras blir dock alltmer suddig.) Vi är stressade men saknar pigga ögon. Vi programmerar snabbt men har fortfarande inte listat ut frågan till svaret IT. Vi har lyckats spränga själva ljusvallen, men har vi existentiell koll nog för att ge bra svar om en fé skänker oss tre önskningar? Vet vi vad vi vill? Vet vi vad vi sysslar med? Carl Bildt har sagt: "Internets utveckling är en utveckling som styrs av alla och ingen." Noll koll, alltså.
Vi ska akta oss väldigt noga för att förväxla snabbhet med friktionsfrihet. Friktionsfrihet är ingen sport. All djuputveckling och likaså all sport, utom kanske curling, handlar om att övervinna svårigheter och friktion. Ej om att ta bort friktion. Men våra våta teknologiska drömmar handlar just om friktionsfrihet. Att gå till en telefonkiosk sliter på lederna. Svaret på problemet är mobiltelefonen, med vars hjälp vi kan stå HELT STILLA och telefonera. Än så länge måste vi fortfarande lyfta luren och röra på munnen, men våra vetenskapsmän och uppfinnare ska nog kunna minska även den friktionen så småningom. Handsfree är ett steg på väg. Thoughtfree kommer nästa år. (Hur var det Cheech och Chong sa? "No brain, no pain.")
Den nya ekonomin och e-handeln handlar också om att eliminera friktion, kostsamma mellanled, kurvor i vilka man måste sakta ner. Alltså stänger vi postkontor och banker. Luftmotståndet på Internet är minimalt, småprat med trevliga kassörskor (en ineffektiv förlustpost) finns inte heller. Friktion är olönsamt, det har vi förstått. Men den ger oss också bättre grepp om terrängen. Att gå till posten och småprata om ditt och datt kan synas meningslöst. Det är också mänskligt. Jag känner mig inte fullständigt som en komponent på ett löpande band. Jag gör civilt luftmotstånd. Och vad vore sex utan friktion? Menlös halkkörning.
Max Frisch slog huvudet på spiken när han i Homo faber skrev: "Teknologi handlar om att så inrätta livet att man slipper uppleva det." När vi alltmer strömlinjeformar tillvaron ska vi påminna oss om att den yttersta glidmedelsinsmorda komforten heter koma. Draken lyfter i motvind. Friktion är synonym för LIV. Fatta det. Snabbt!